DETAILS
Fuji's Crystal Archive Digital Pearl Paper marks a new era in the printing of high quality glossy digital images. Pearl-like crystals give silver halide color prints a specific Lustre, creating a distinctive metallic appearance, sure to capture a viewer's attention! Pearl paper was designed to meet the growing demands for commercial prints and enables photographers to expand their customer print options. Wedding and portrait photographers will love this papers ability to reproduce flesh tones accurately while still looking bold and distinctive. This paper has a thicker base than the other three paper types with a very distinctive look in the lighter areas of an image.

When it comes to turnaround times, we are proud to be Atlanta's quickest and most consistent professional photo lab. To ensure the best quality, we calibrate and run each silver halide surface once per day. The time frame for Pearl Metallic paper depends on the number of queued orders and varies day to day. To make sure your Pearl Metallic order is ready on time, all surfaces other than Lustre are scheduled to be due in 24 hours of being received. Ready times are based within the working days (Monday through Friday 8:30AM to 5:30PM) and are subject to change based on volume and equipment capacity.
If you need your order earlier than our scheduled ready times, rush services may be available and are priced to order. Please call 404-885-1885 if you would like to rush your order.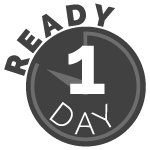 PRICING
*ROES pricing only. Photofinale prices will vary. Final print sizes are about an 1/8 of an inch smaller to ensure a full image edge.

SIZE
MIN RES
125 PPI
PRICE
PRICE WITH:
2MM STYRENE - WHITE
PRICE WITH:
3MM PVC - BLACK OR
3/16" GATOR - BLACK
PRICE WITH:
1/2" GATOR - BLACK
4x6
500 x 750
$0.68
$5.68
$10.68
$15.68
5x7
625 x 875
$1.18
$6.18
$11.18
$16.18
8x10
1000 x 1250
$1.99
$6.99
$11.99
$16.99
8x10 pkg unit 25 or more
1000 x 1250
$1.99
--
--
--
8x12
1000 x 1500
$4.78
$12.78
$16.78
$22.78
11x14
1375 x 1750
$6.78
$14.78
$20.78
$27.78
11x17
1375 x 1750
$9.28
--
$26.28
$34.28
12x18
1500 x 2250
$10.78
--
$28.78
$37.78
13x19
1625 x 2375
$17.27
--
$33.27
$48.27
16x20
2000 x 2500
$16.98
--
$36.98
$52.98
16x24
2000 x 3000
$19.98
--
$43.98
$57.98
20x30
2500 x 3750
$31.98
--
$61.98
$89.98
24x30
3000 x 3750
$46.98
--
$80.98
$115.98
24x36
3000 x 4500
$48.98
--
$90.98
$132.98
30x40
3750 x 5000
$64.98
--
$120.98
$180.98
30x45
3750 x 5625
$72.98
--
$136.98
$202.98