VISIT THE STORE &
DROP OFF TODAY!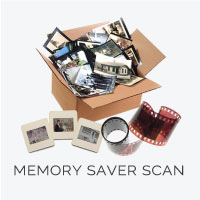 DETAILS
Our Memory Saver service is the best way to preserve your memories with out breaking the bank. If you need inexpensive digital conversions of your loose photos, 35mm slides or negatives, this is the service for you! We can scan any non-mounted loose photo up to 8x10 in size, as well as all 35mm slides or negatives. All images are scanned at 600 DPI and preserved via JPEG files. With our quality of memory saver scanning,  you can easily print enlargements, share online, and store them forever! If price is not the issue, you can use our Repro or Drum Scanning services to get the best available. No appointment needed, so come on by with your photos and film any time!
When you come in with your photos and negatives to have scanned, we'll help you secure them with our packaging materials and work with you to place the order. You can request to either have them scanned randomly, scanned in order, or have them organized into folders. When having them scanned into folders, it helps to have the photos or film separated into envelopes or ziplock bags with the folder name labeled. We will need to count the number of photos and negatives you will be leaving with us to make sure we don't miss anything when scanned. It can help to have your own count before we being, just to make sure no miscounting occurs. After that, we will take payment, give your reciept with your order number, and have your order ready shortly!
There are many ways we can deliver the digital files to you, but the most popular is via Dropbox or WeTransfer. We can also deliver the files by Google Drive, CD , DVD, flash drive (provided or purchased here), or hard drives (provided). When working with several or large orders , flash drives and hard drives are most efficient and more likely to have enough storage space to be in one place.
We are all artists here at PPR and understand the value and delicacy of your art. The environment and safety of ANY original or property that comes into the store takes priority over anything else. All of our services and products are produced in house and do not leave PPR for any reason unless specified by you. We store your negatives and prints in plastic sleeves and are filed in a secure bin at the scanning station until the order is scanned. We always handle your images with cotton gloves, use negative or photo specific cleaner (when necessary), and mark the package with a bright yellow "CUSTOMER ORIGINALS" sign to help prevent any possible risk of damage. Once the order is complete, we store the order in a secure storage bin up front ready for you to pick up. With large orders or any order that may have greater risk of damage, we store them in a low traffic area in the back and will retrieve them when you arrive.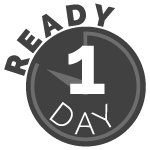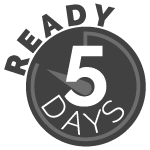 TURN AROUND TIME
When it comes to turnaround times, we are proud to be Atlanta's quickest and most consistent professional photo lab. To ensure the best quality of work, we have Memory Saver Print Scanning services scheduled to be ready in 1 business day and Memory Saver Film Scanning services scheduled to be ready in 5 business days. In most cases, we have the order ready earlier when scanning a couple of frames, but to ensure consistency of ready times with an average quantity of scans, we have the ready time set a little later. This also helps give us the time to clean and treat dirty or damaged film. Ready times are based within the working days (Monday through Friday 8:30AM to 5:30PM) and are subject to change based on volume and equipment capacity.
If you need your order earlier than our scheduled ready times, rush services may be available and are priced to order. Please call 404-885-1885 if you would like to rush your order.
PRICING
*ROES pricing only. Photofinale prices will vary. Final print sizes are about an 1/8 of an inch smaller to ensure a full image edge.

| Type | 1-19 originals | 20+ originals | Scan PPI | File format |
| --- | --- | --- | --- | --- |
| Stack Scanning 3.5x5 to 8.5x11 | 0.95 | 0.95 | 600 | .jpg |
| Flat Bed Scanning up to 8.5x14 | 8.00 | 8.00 | 600 | .jpg |
| minimum order | 15.00 | | | |