VISIT THE STORE &
DROP OFF TODAY!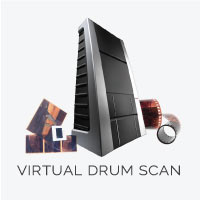 DETAILS
Our Virtual Drum Scanning service offers the highest quality film scan in the industry. The Hasselblad X5 scanner has high resolution reproduction of film originals from 35mm to 4"x5" featuring 4.9 Dmax and un-paralleled detail and color accuracy. With up to 5000 PPI per scan and multi-layered 16bit tiff files, you will see film grain and the plastic that makes the film long before you will see pixels. This service is ideal for museums, galleries, and film photographers that want to preserve their work at the highest quality.
Stop by the store with your negatives. You can either pre-organize your negative strips with paper or sticky notes marking the ones you'd like to have scanned or use our light box, loop, and negative pouches to mark the ones you'd like to have scanned. If you'd like prints or something special done with certain negatives, please note them as well. As always, we're here to help you prepare the order as well.
We will then place the order and give you an estimate of when you can expect to have the order ready.
There are many ways we can deliver the digital files to you, but the most popular is via Dropbox or WeTransfer. We can also deliver the files by Google Drive, CD , DVD, flash drive (provided or purchased here), or hard drives (provided). When working with several or large negatives , flash drives and hard drives are most efficient and more likely to have enough storage space to be in one place.
We are all artists here at PPR and understand the value and delicacy of your art. The environment and safety of ANY original or property that comes into the store takes priority over anything else. All of our services and products are produced in house and do not leave PPR for any reason unless specified by you. We store your negatives in plastic sleeves and are filed in a secure bin at the scanning station until the order is scanned. We always handle your negatives with cotton gloves, use negative specific cleaner (when necesary), and mark the package with a bright yellow "CUSTOMER ORIGINALS" sign to help prevent any possible risk of damage. Once the order is complete, we store the order in a secure storage bin up front ready for you to pick up. With large orders or any order that may have greater risk of damage, we store them in a low traffic area in the back and will retrieve them when you arrive.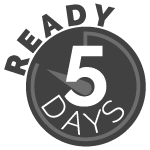 TURN AROUND TIME
When it comes to turnaround times, we are proud to be Atlanta's quickest and most consistent professional photo lab. To ensure the best quality of work, we have virtual drum scanning services scheduled to be ready in 5 business days. In most cases, we have the order ready earlier when scanning a couple of frames, but to ensure consistency of ready times with an average quantity of scans, we have the ready time set a little later. This also helps give us the time to clean and treat dirty or damaged film. Ready times are based within the working days (Monday through Friday 8:30AM to 5:30PM) and are subject to change based on volume and equipment capacity.
If you need your order earlier than our scheduled ready times, rush services may be available and are priced to order. Please call 404-885-1885 if you would like to rush your order.
PRICING
*ROES pricing only. Photofinale prices will vary. Final print sizes are about an 1/8 of an inch smaller to ensure a full image edge.

| Film | 1-19 originals | 20+ originals | Scan PPI | File format |
| --- | --- | --- | --- | --- |
| 35mm slide | 20.00 | 16.00 | 5000 | 16bit TIF & Hi-Res JPEG |
| 35mm* | 20.00 | 16.00 | 5000 | 16bit TIF & Hi-Res JPEG |
| 645* | 25.00 | 20.00 | 3200 | 16bit TIF & Hi-Res JPEG |
| 6x6* | 25.00 | 20.00 | 3200 | 16bit TIF & Hi-Res JPEG |
| 6x7* | 30.00 | 24.00 | 3200 | 16bit TIF & Hi-Res JPEG |
| 6x8* | 30.00 | 24.00 | 3200 | 16bit TIF & Hi-Res JPEG |
| 6x9* | 30.00 | 24.00 | 3200 | 16bit TIF & Hi-Res JPEG |
| 6x18* | 50.00 | 40.00 | 3200 | 16bit TIF & Hi-Res JPEG |
| 4x5 | 50.00 | 40.00 | 2040 | 16bit TIF & Hi-Res JPEG |
| Additional CD/DVD Copies | 5.00 | 5.00 | | |