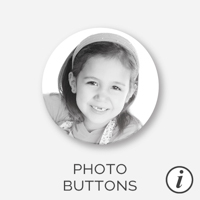 DETAILS
Our Photo Buttons are printed on Fine Art Giclee Epson Lustre (our Portfolio Lustre) which are made on production grade Epson printers with genuine Ultrachrome K3 inks. Our buttons have a cellophane protective cover and is encased in a 3 inch metal backing with an attachment pin for clothing. You can order buttons in singles or doubles for each image. 
When it comes to turnaround times, we are proud to be Atlanta's quickest and most consistent professional photo lab. Our Lustre photo paper is our most common surface and is usually ready within 4 hours of being received. Same day orders would need to be recieved by 12:00PM to ensure that it will be ready before closing. Ready times are based within the working days (Monday through Friday 8:30AM to 5:30PM) and are subject to change based on volume and equipment capacity.
If you need your order earlier than our scheduled ready times, rush services may be available and are priced to order. Please call 404-885-1885 if you would like to rush your order.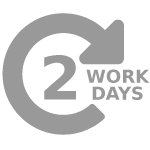 PRICING
*ROES pricing only. Photofinale prices will vary. Final print sizes are about an 1/8 of an inch smaller to ensure a full image edge.

| Size | Price |
| --- | --- |
| 1up 3" Button | $2.99 |
| 2up 3" Buttons | $3.99 |