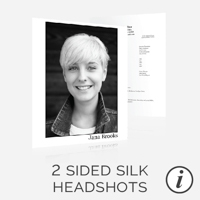 DETAILS
Silk Head Shots & Comp Cards are printed on 100# satin cover card stock paper. The surface yields a simi-gloss surface for photos and a simi-matte surface for text and graphics which is perfect for mixed content like head shots and comp cards. You can order both products printed on one or two sides with the same quality on both sides. This is perfect for printing a resume, alternate poses or looks, or just contact information on the back side. As with all the other Head Shot & Comp Card surfaces, we have several industry standard templates that are fully customizable for your liking. All our press silk Head Shots & Comp Cards comes at a minimum of 24 copies to so we can keep them at our great wholesale price point.
When it comes to turnaround times, we are proud to be Atlanta's quickest and most consistent professional photo lab. We know that time is usually sensitive when placing head shot orders, so we have all lustre and silk head shots scheduled to be ready with in 4 business hours of receiving the order. Ready times are based within the working days (Monday through Friday 8:30AM to 5:30PM) and are subject to change based on volume and equipment capacity.
If you need your order earlier than our scheduled ready times, rush services may be available and are priced to order. Please call 404-885-1885 if you would like to rush your order.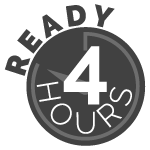 PRICING
*ROES pricing only. Photofinale prices will vary. Final print sizes are about an 1/8 of an inch smaller to ensure a full image edge.

1 Sided

24 Set
2 Sided

24 Set
8x10 Headshots
$21.36
$28.56
8.5x5.5 Compcards
$21.36
$28.56