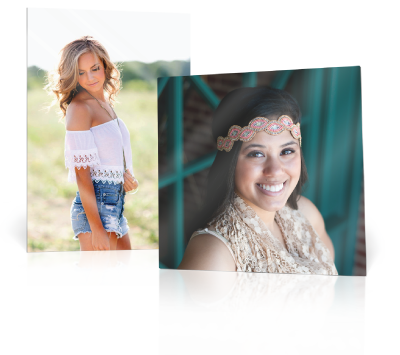 DETAILS
With the highest fade, scratch, and abrasion resistance, you won't have to hide your images behind glass anymore! Plus, our metal prints are the longest lasting photo medium on the market and is made with recycled material that's also 100% recyclable! We use ChromaLuxe HD metal with specially-coated surfaces for infusing dyes directly to the metal. For optimum clarity, we fuse each size at specific temperatures and time length with our heat press. Standard order service time is 3 working days.
Standard sizes are available from 8"x8" to 16"x24". Standard order service time is 3 working days. If you'd like any standard sizes that we don't currently offer, it may take up to a week to complete your order.

When it comes to turnaround times, we are proud to be Atlanta's quickest and most consistent professional photo lab. All our metal prints are made in house and are made to order. All our materials are ordered directly form Chromalux, the leading manufacture of metal prints, and are thoroughly inspected before making each print. Since everything is made in house, the process is fairly quick. We have all wall decor scheduled to be due 72 hours after being submitted. This allows enough time to give them the extra attention they need. Ready times are based within the working days (Monday through Friday 8:30AM to 5:30PM) and are subject to change based on volume and equipment capacity.
If you need your order earlier than our scheduled ready times, rush services may be available and are priced to order. Please call 404-885-1885 if you would like to rush your order.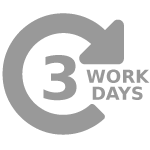 Surfaces
The whites in your image will print natively as bright white and transition to colors seamlessly which gives your image the full intended color spectrum possible with dye sublimation printing. The image will have a very smooth fresh look with virtually no orange peel or textured interference. Gloss White Metal Prints are our most common and popular surface for images of all kinds.
Hanging Options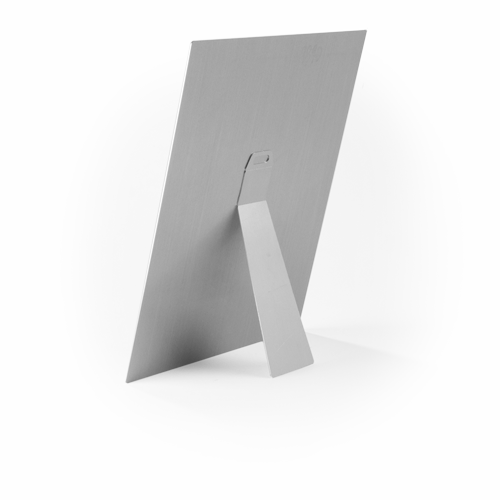 The Table Top Easel is styled after the traditional kickstand frames and is intended for images smaller than 11x14. Also made of metal, the Table Top Easel is sure to "hold up".
PRICING
*ROES pricing only. Photofinale prices will vary. Final print sizes are about an 1/8 of an inch smaller to ensure a full image edge.

SIZE
MIN RES
125 PPI
PRICE
WITH
CONNECTION
OR EASEL
WITH
DUO
SHADOW
WITH
SHADOW
DISPLAY
WITH CLEATS
OR
WIREBOX
WITH
CLEAT
BOX
5x7
625 x 875
$19.99
$24.99
$26.99
$29.99
--
--
8x8
1000 x 1000
$19.99
$24.99
$26.99
$29.99
--
--
8x10
1000 x 1250
$24.99
$29.29
$31.99
$34.99
--
--
8x12
1000 x 1500
$29.99
$34.99
$36.99
$39.99
--
--
10x10
$24.99
$29.99
$31.99
$34.99
--
--
11x14
1375 x 1750
$41.99
$46.99
$48.99
$56.99
--
--
12x12
1500 x 1500
$39.99
$43.99
$45.99
$49.99
--
--
12x18
1500 x 2250
$54.99
$59.99
$61.99
$65.99
--
--
16x20
2000 x 2500
$69.99
$74.99
$76.99
$84.99
$88.94
$94.99
16x24
2000 x 3000
$89.99
$94.99
$96.99
$99.99
$108.94
$114.99