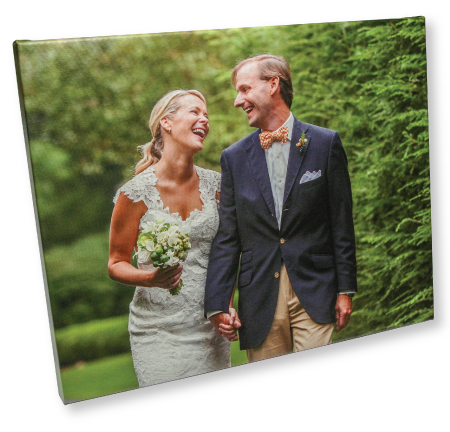 DETAILS
Canvas Gallery Wraps are a contemporary way to display your image on the wall. The image is printed directly onto museum quality canvas material using high quality archival inks. The Canvas Print is then wrapped around a stretcher frame so that the photo's edges are visible on the sides of the frame. We manufacture our frames in store, and can offer an infinite variety of sizes. Please ask us if you do not see the size you desire. Frames are available in ¾ and 1½ depths.
In our ROES uploader, you can choose borders and colors, or choose to have us "mirror" the image on the edges if you do not have sufficient crop room for your image.
Sizes are available from 8"x8" to 48"x96. Standard order service time is 3 working days.

When it comes to turnaround times, we are proud to be Atlanta's quickest and most consistent professional photo lab. All our canvases are made in house and are made to order. We build all our frames from scratch and hand stretch each canvas. To make sure your canvas is stretched evenly and taught, we inspect all canvases upon completion. Since everything is made in house, the process is fairly quick. We have all wall decor scheduled to be due 72 hours after being submitted. This allows enough time to give them the extra attention they need. Ready times are based within the working days (Monday through Friday 8:30AM to 5:30PM) and are subject to change based on volume and equipment capacity.
If you need your order earlier than our scheduled ready times, rush services may be available and are priced to order. Please call 404-885-1885 if you would like to rush your order.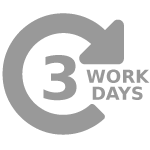 Edge Option Examples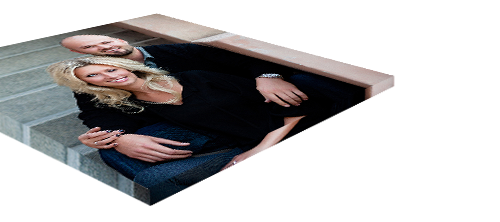 PRICING
*ROES pricing only. Photofinale prices will vary. Final print sizes are about an 1/8 of an inch smaller to ensure a full image edge.

SIZE
MIN RES
125 PPI
0.75" PRICE
0.75" PRICE WITH:
Mirror, Black, or White Edges
1.5" PRICE
1.5" PRICE WITH:
Mirror, Black, or White Edges
8x10
1000 x 1250
$30.42
$40.42
$49
$59
8x12
1000 x 1500
$33.40
$43.40
$52
$62
11x14
1375 x 1750
$46.36
$56.36
$62
$72
11x17
1375 x 1750
$51.83
$61.83
$69
$79
12x18
1500 x 2250
$53.19
$63.19
$77
$87
16x20
2000 x 2500
$73.49
$83.49
$92
$102
16x24
2000 x 3000
$74.72
$84.72
$99
$109
20x30
2500 x 3750
$106
$116
$125
$135
24x30
3000 x 3750
$131.54
$141.54
$147
$157
24x36
3000 x 4500
$151.89
$161.89
$165
$175
30x40
3750 x 5000
$194.84
$204.84
$210
$220
30x45
3750 x 5625
$214.58
$224.58
$230
$240
40x60
5000 x 7500
$341.54
$351.54
$360
$370
48x96
6000 x 12000
$588.71
$598.71
$647
$657